DIY Kitchen Island On A Budget
When we originally decided to purchase our home, Brian was working in Red Lake, Ontario, an extremely small northern mining town located near the Manitoba border. It was a fly-in, fly-out job on an intense work schedule of 28 days in, 7 days out. It later eased up to 19 in, 9 out and then finally 2 weeks in and 2 weeks out. Anyways, this meant that house shopping was next to impossible.
The housing market in Sudbury at the time was pretty ridiculous, we had been looking for just under a year and had seen over 30 homes and FINALLY, we found it! Brian sent the link, based on the garage pictures, and urged me to see it. The next day my realtor @Carla Bussolarro from @RealtyExecutives took me to see it. And what can I say, instant love for it! It's this beautiful old farm style house set back on a beautiful 2 acres of property with these gorgeous willow trees.
Anyways, I'm getting away from myself, these two pictures are of the kitchen when I first did my walk through so excuse the poor camera work. As you can see, the kitchen is pretty large with what was a tiny little island (that the previous homeowners took with them).
For a while we had a table just below the opening, but it wasn't very functional. We had priced out an island @HomeDepot and they wanted over 3,000.00 for lower cabinets. That price wasn't in our tight new homeowners budget. So we waited and scoured online to see what our other options were and we waited patiently until the opportunity came up.
Finally, @Kijiji and my mom to the rescue! She had also been keeping an eye in the construction section of the page in case anything else came up. She sent me a link to this beauty (it has come a long way since then so don't take it at face value).
A homeowner who purchased the island thinking it would be the perfect size, but then after a short time, realized that it was much too large. I thought to myself, we could totally make this work in our space. So, I called Brian and got the go-ahead (he is the construction chief after all). This island was only 300.00 on @Kijiji, a HUGE savings from what a brand new one would cost. So after we got it home, I knew it needed to be modified as there would be no way we could sit up to it. I wanted to make sure we could create a large work surface in the kitchen but also have a place to sit and eat more casually, but mainly, somewhere for everyone to keep me company while cooking, and keep Brian company while he's doing the dishes hahaha, but I'm not kidding ;).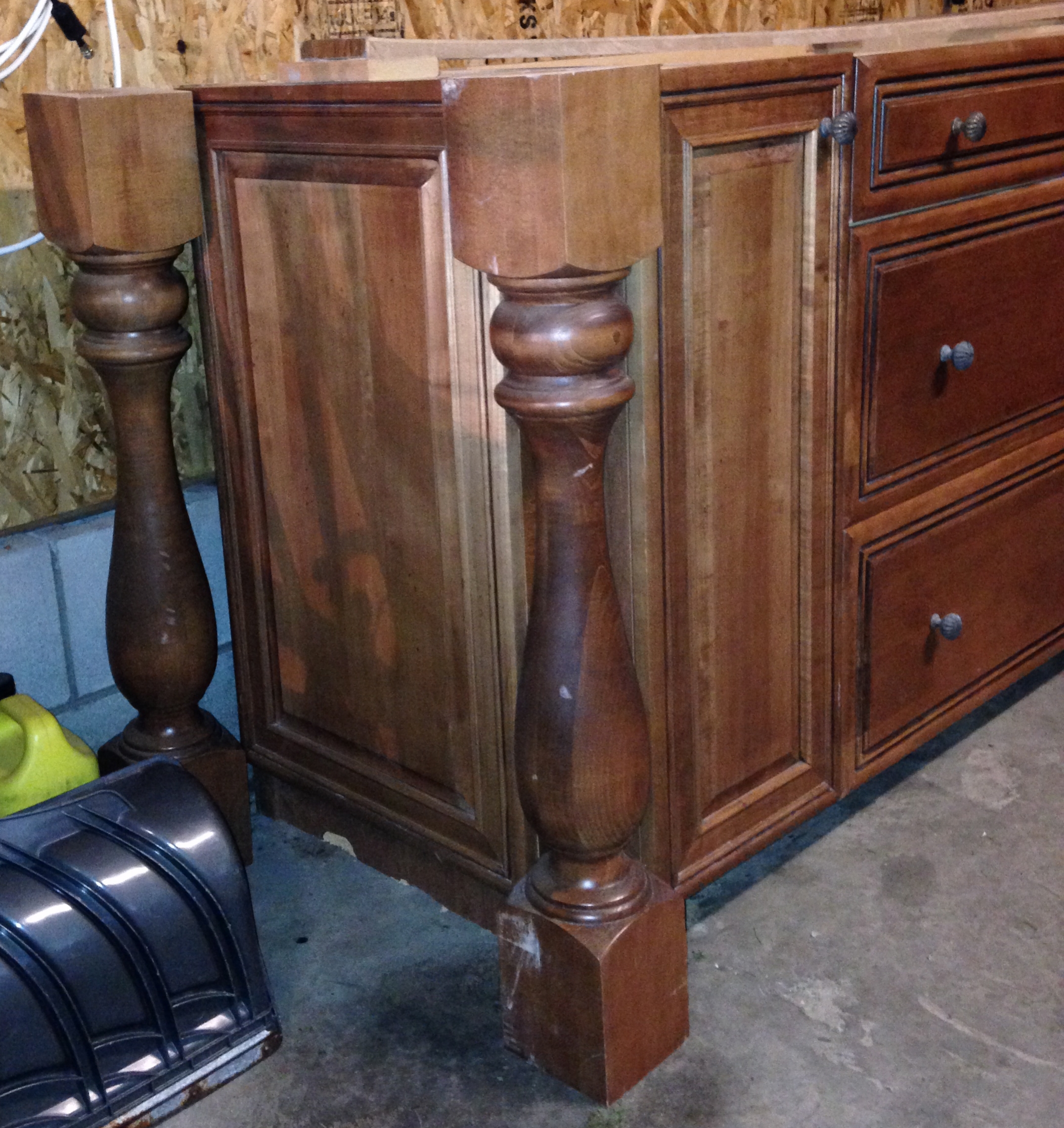 So I came up with a plan! Create a monster sized butcher's block counter to allow seating on the sides. The only glitch was that due to the depth of the island (at the time), we would only be able to get one seat. So, like in my Bathroom Vanity post, the ideas started turning in my mind. What if we decreased the depth of the end cabinets. You'll notice in the photo that the end cabinet is an upright, while right beside it in the center are drawers. Thank goodness it was three separate pieces, making my idea more conceivable. However, the next problem became the laminated piece on the side near the columns. Brian to the rescue here! He said it's an easy fix, we will just pull it off! BINGO!
The question then became, what will we use on the sides instead? Brian suggested tongue and groove cedar. He said we could stain it to match the existing cupboard, but I didn't think that staining would look right, especially as there would be corner trim. So I told him I would keep his suggestion in mind but I was going to the paint store @SherwinWilliams to check out all options.
Back to business, the island itself. I can't speak to much of the cutting, measuring and figuring out for weight/sturdiness/engineering, that was all Brian's doing. But, I can tell you about the phases and stages we went through to get it to where it is today.
So, before we got to this level of completion, we had to:
Remove the baseboard in the kitchen

Remove all the drawers and doors on the island

Take the laminated sides off of the original island

Modify and recess the side cupboards

Build a box frame to extend, create and support seating.
And finally, here we are, partially completed. However, like I said above, Brian's schedule put a MAJOR pause on this project. I think the island actually stayed this way for over 4 weeks. But, when he came home next, we finally got back to it!
The next step was to add the tongue and groove around the frame/base, back of recessed cupboard, and the sides (where we had removed the laminated pieces). It took us a while to decide and plan how we were going to create the actual butcher block counter top. Brian rewound his brain to his shop classes in high school and what he has learned from his step-father Glen, who does a lot of carpentry.
Once we figured out a plan (I say we, but I really mean Brian), we determined that we would need some extra muscle for lifting, in comes Matt. Brians longtime friend, who we spend lots of time with fishing, having bonfires and hanging out (also with him helping Brian around the house if needed). So at this point, I became less a forewoman and more of the chef, catering to the men making me this beautiful island.
A little BBQ with some fresh cranberries serving as ice in our bevy's was my sure way to keep work flowing. The boys finished the measuring and cutting, and the mosquito's came out, so we moved the construction site inside.
After several cuts, a ton of sawdust in my kitchen, the top of our island was complete… Well almost.. At least all the boards were down and ready for the next step. As you can see, Brian was tuckered out from the hard work, enjoying an ice cold beer haha. Job well done!
After looking at it some more, Brian wasn't completely happy with the above photo. He needed to make some adjustments to plank size and layout, and trim of the top surface. Once he had figured it all out, he adjusted the plank sizes, used his airnailer, and wood glue to combine both layers to make the surface thick enough. In the picture below you can see the clamps keeping the wood down while the glue dries. Once the glue dried, the sanding began. He spent quite a while sanding the top surface and the side edges to make sure it was super smooth. But what you can really see in the picture below, the beautiful job he did!
In this picture you can also really see the great job he did on the trim around the tongue and groove as well as the bottom of the island.
The next step for us was to decide how to finish the top surface, as well as the sides/front of the island. I decided we should paint it out so that it was all one colour. Don't get me wrong, I like the way it turned out. But if I could have had a crystal ball to see what it would have looked like if we stained it to match.
For the top surface, rather than using a fancy clear lacquer, Brian called an old family friend of his who had also done his own butcher block counter-top and asked him for advice. We ended up using Circa 1850 Tun and Teak Oil purchased @HomeDepot.
For the sides of the island I went to my go-to paint store @SherwinWilliams to ask their advice. They have always provided great guidance for all paint projects. As I mentioned in the Bathroom Redo on a Budget blog post, I have tried Behr, but I prefer @SherwinWilliams. I needed a great primer, something that would provide coverage for both a fresh wood surface, as well as the glossed finish on the front of the island. They recommended their All Surface Enamel High Performance 100% Acrylic Paint . Both worked extremely well and provided amazing coverage. After painting all the components of the island, and finishing the surface, and months of a process, it was finished.
You'll notice in the above picture which I forgot to mention earlier, I even had Brian run electrical in the island so that we have an outlet on each side of the Island, making it easier to use as a multi-purpose work surface.
I hope you enjoyed reading about our Island DIY, if you have any questions feel free to ask! Even if you need to me ask Brian a question about structure, I'm sure he wouldn't mind!